Rack Guard Netting
Keep Workers & Product Safe

Pallet & Warehouse Racking
Protection from Falling Objects
Simple, affordable means of preventing packages and cartons that have become dislodged from the pallet

Aisleways & Walkways
Underneath or adjacent to pallet & warehouse racking
Prevents & protects personnel from injury

Pick Towers & Conveyors
Protect your People, Product & Workstations
Keeps cartons from potentially jamming up conveyors and other equipment
Rack Guard Netting
Keep Your Workers Safe
RACK NET's experienced staff is available to help you with pallet rack guard netting systems. We work with you to help protect staff and customers from falling objects or products that may fall off of pallet racks, mezzanines, or shelving.
Safety Netting
RackNet
If people work in your pallet racking aisles or pick towers, it's only a matter of time until something falls. Forklifts can hit racks, pallets can break, or pickers can knock something off, so you need full-time protection. Rack Net safety netting helps catch falling items and keeps workers and products protected.
Rack guard systems consist of load-rated netting panels, custom offset brackets from flushmount to 12", frame extensions if above rack protection is required, aircraft cable and rigging hardware. The netting panels are custom made to size to accurately fit each and every different racking layout. Netting panels that are made-to-measure will provide the safest option for back-of-rack protection. Rack guard netting systems have been designed and tested specifically for industrial racking applications.
RACKNET also offers horizontal rack netting systems are designed to ensure the safety of workers who have to enter racking bays to access product and are at risk of having product fall from an upper level. They are also used in tunnel applications in racking setups.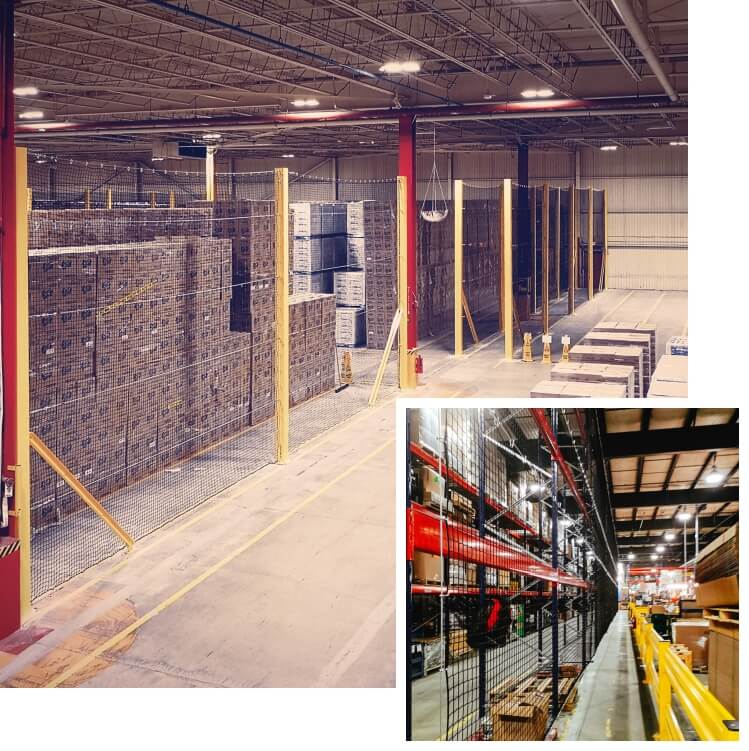 Let's Work Together
We at RACKNET are available to review your needs and will work closely with you to design a custom or standard application that protects employees and products.